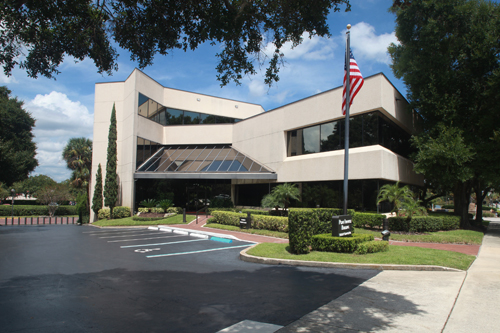 We are conveniently located right off of Interstate-4 in beautiful downtown Orlando, centrally located on the Northwest corner of Magnolia and Orange Avenues, by Lake Ivanhoe.
Here is a Mapquest link for our location
IMPORTANT:
If you are utilizing Google, Mapquest or other GPS to locate us, please remember to include our zip code of 32801 in the address, not just the city, otherwise, you may be directed to a corresponding address in Winter Park approximately 10 minutes away (Ted Maines Interiors)!
DIRECTIONS FROM I-4:
From South of Orlando on Eastbound I-4, *THE IVANHOE EXIT 84 IS NOW CLOSED.* You can exit early at 83A for Amelia Street/Bob Carr or proceed to take the next/following group exit 85 for Princeton Street (also the ramp for Par Street and Fairbanks Avenue).
If you take Exit 83A, proceed straight through the traffic light at the end of the exit ramp, cross Amelia Street and then Colonial Drive. Curve along the frontage road to the traffic light at Orange Avenue (by the railroad tracks which will be on your right), go straight through the light curving slightly left by the Doubletree Hotel (on your left) and you will be looking at my building straight ahead on the left before the next traffic light at Magnolia Avenue.
If you go to Exit 85, drive the long exit ramp to Princeton Street and exit to the right down to the traffic light and turn right onto Princeton. Make another right turn at the next/second traffic light onto North Orange Avenue and curve around Lake Ivanhoe, through three additional traffic lights, until you reach the fourth traffic light at the intersection with Magnolia Avenue. Proceed through the light.
You will be facing our beige/glass multi-story (2-3) office building at Point Ivanhoe. Turn into the free, ground floor parking out front (see the picture above). ****An overflow parking lot is directly across the street (South) that is also free of charge. ****
From North of Orlando on Westbound I-4, take the Ivanhoe Boulevard exit 84 to the right and curve around to merge with South Orange Avenue and go under the I-4 overpass. There will be a Doubletree by Hilton Hotel on your left and the Gateway Center on your right. At the first traffic light, before the railroad tracks, make a hard left turn onto North Orange Avenue and proceed East a half block. The Point Ivanhoe beige/glass multi-story office building is on your left with free, ground floor parking out front. ****An overflow parking lot is directly across the street (South) that is also free of charge. ****

TO THE OFFICE
Enter the building up the brick ramp from the parking lot through the glass doors and turn left for the elevator and stairs to the second floor reception and Suite 210 on the right.
Address:
1030 North Orange Avenue
Suite 210
Point Ivanhoe Building
Orlando, Florida, USA 32801
Telephone: (407) 650-0075
Facsimile: (407) 650-0072
NEARBY ACCOMMODATIONS
Double Tree by Hilton Orlando Downtown
60 South Ivanhoe Boulevard, Orlando, Florida 32804
(407) 425-4455
Courtyard Orlando Downtown
730 North Magnolia Avenue, Orlando, Florida 32803
(407) 996-1000
Embassy Suites by Hilton Orlando Downtown
191 East Pine Street, Orlando, Florida 32801
(407) 841-1000